William Farish Eschbacher - 1924
6/9/2022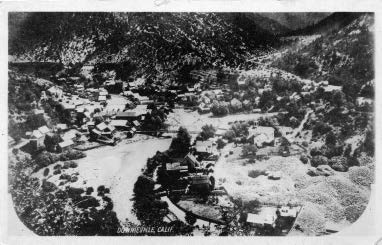 On August 15, 1924, William placed a 2-cent stamp on the postcard pictured above and mailed it to Miss Else Weiland (his cousin) in Freiburg, Baden, Germany. Here is what he wrote on the back of the card:
"This is my old home in the California mountains. I am here for a few days visiting old friends. This town is one of the old gold mining places and was first settled in 1849. W.F. Eschbacher Downieville, Aug 14, 1924"
By the time Eschbacher sent this postcard, almost twenty years had passed since his tenure as the editor of this newspaper ended in 1903 and he moved to Oakland, in time for the 1906 earthquake in San Francisco. As he wrote to his relatives in 1911, "I was there much of the time while the city was burning. It was an awful but grand sight."
In the batch of material provided to us by B. Engle, we also found a postcard announcing a gathering of the Sierra-Plumas Society, a group of people who had migrated from the mountains to the Bay Area and retained a great ...